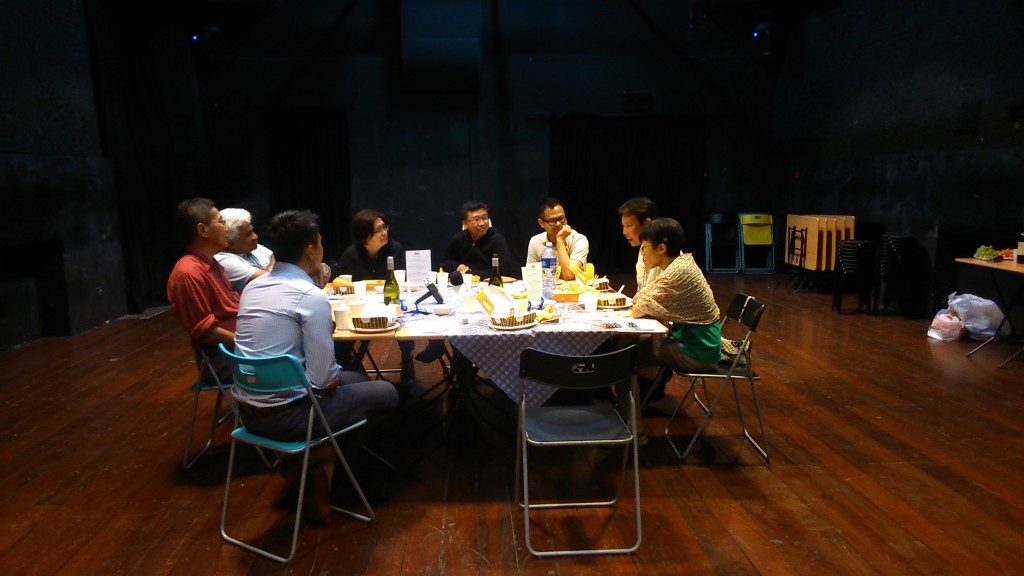 Date: 28 January 2014
Location: Substation, 45 Armenian St, Singapore 179936
Guests: Russell Heng, Sasi Thiunalan, Jian Hong, Heng Leun, Souk Yee, Suan Tze and Alfian Sa'at
Co-host: Terence Chong
Food: Chicken, rice, fruit, chocolate cake
The dinner in Singapore co-hosted with Terence Chong, focused on political theatre in 1984. The guests were Wong Souk Yee and Chng Suan Tze, both members of the theater group Third Stage in 1984 and arrested in 1987, Russell Heng, playwright, former academic, civil society and gay rights activist, T. Sasitharan (Sasi), art critic, co-founder and director of Intercultural Theatre Institute and three younger generation guests: writer, poet and playwrite Alfian Bin Sa'at, artistic director of Drama Box Kok Heng Leun and artistic director of The Theatre Practice Kuo Jian Hong.
The group discussed what it meant to develop an anti-state narrative along with stories of censorship, arrest, aesthetic camoflage, the subsequent defacto banning of forum theatre (from 1994-2004) and Singapore's current relationship to civil disobedience and public space. They also reflected on the sense that there was a promise of change in the air at the time and the way in which political theatre was one of the only vehicles for talking back to the state. The Philippine Educational Theater Association (PETA) was, and still is, a big influence on some of their work. There was also discussion about the role of Shell as a sponsor of theatre in the 1980s.
Listen to the Singapore Dinner
Total running time: 1:29:16