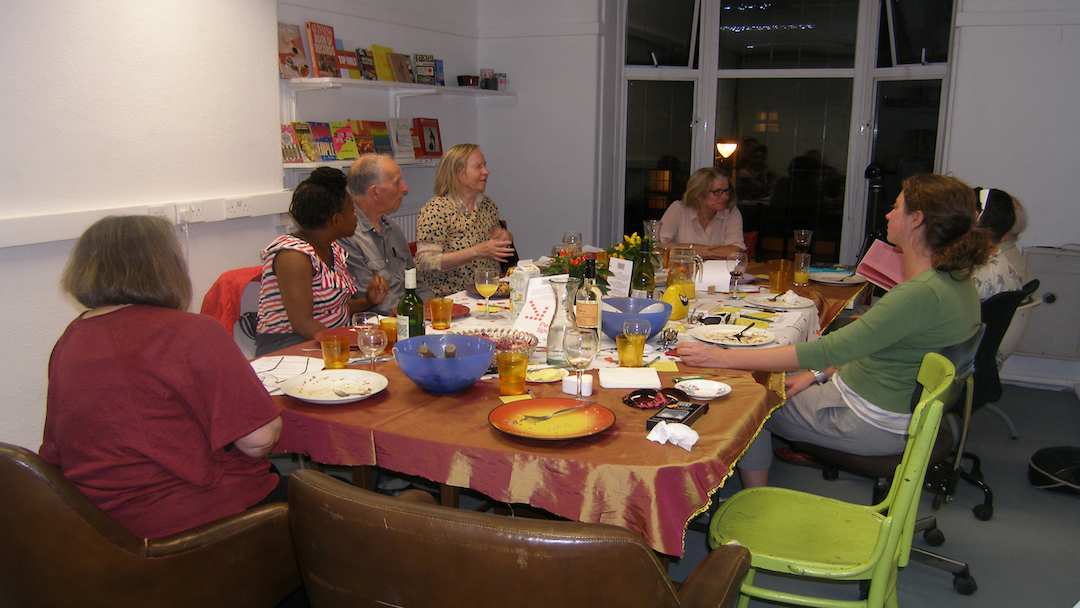 London Dinner
Date: 29 September 2011
Location: Studio, St. Paul's House, 125 Deptford High Street. London SE8
Guests: Loraine Leeson, Sonia Boyce, Stephen Lobb, Flick Allen, Leila Galloway, Shirley Cameron and Roland Miller
Co-host: n/a
Food: Thai salads and muffins supplied by Happy Kitchen
This was the first 1984 dinner, held on 29 September 2011. With the help of Flick Allen and Leila Galloway, I compiled a long list of people I wanted to talk to about this period and then reduced it to a shorter list for the dinner. I invited six guests to my studio building on Deptford High Street, London to discuss art and politics. My guests were Loraine Leeson, Sonia Boyce, Stephen Lobb, Flick Allen, Leila Galloway, Shirley Cameron and Roland Miller, all artists actively working in the UK now and in 1984.
The extracts cover different topics prompted by a menu of questions I emailed to the guests in advance. These included questions about the frictions and conflicts that existed at the time among artists, the institutional support structures and funding they tapped into, how they made a living and what they think of the context now in relation to 1984.
Unsurprisingly the conversation was fluid and moved beyond my menu of suggested topics. It could have continued for hours longer. Towards the end of the meal, for example, the guests realised they had not yet discussed the hugely influential topic of technology or the important shifts in disability arts at the time through activist self-help groups, pointing out that a lot of this work was happening at the Albany Theatre, just round the corner from where we were sat.
Listen to the London Dinner
Total running time: 1:31:38